Eating on the run
Hectic lifestyles and long work hours have changed the way Americans eat. The family gathering together at the dinner table for a healthy home cooked meal is almost a thing of the past. Instead, we chose meals that are fast, convenient and unfortunately not always healthy.
Reducing saturated fat and cholesterol is an important step in heart disease prevention, often the most difficult to implement since meals eaten on the run tend to be higher in fats. Everyone needs to make a conscious effort to not fall victim to this unhealthy eating trend.

Whether your eating in the car, on the street, or at your office you can make healthy low-fat, high-fiber choices. On the city streets, you can easily find fresh fruit, fruit salads or low-fat frozen or regular yogurt. If you are at a fast food restaurant, have a salad with low calorie dressing, a grilled chicken sandwich or a baked potato with vegetables. Avoid adding butter, mayonnaise, dressings and sauces ,as they are usually very high in fat. Bagels are much healthier than muffins, croissants or sweet rolls.

Finding a happy medium between convenience and healthy eating requires some thought, planning and effort. Consider why you eat on the run and how this affects your food choices.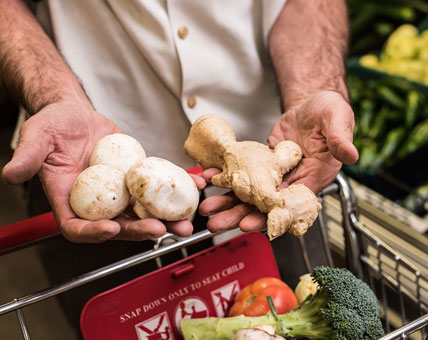 Lack of time and stress from work prevents us from preparing meals, but you can use your microwave to make healthy foods. Frozen vegetables, for example, require little preparation. Pour spinach, lima beans, mixed vegetables or peas into a bowl and microwave for 5 minutes. Microwave a potato for eight minutes then add a low-calorie salad dressing or vegetables. You can always add a butter substitute or herbs for added flavor.

Fresh fruits are great snacks and you can find them everywhere. Begin eating one piece of your favorite fruit or drinking a small glass of juice every day. Add them to your shopping list and pick up new varieties at the market. Dried fruits, such as raisins and pineapple, are also very convenient because they will not spoil.
Ethnic Foods
International cuisine is very popular with Americans. But sometimes the food from different countries doesn't fit into a heart-healthy diet. If you make wise choices when eating ethnic cuisine, you can enjoy a variety of delicious foods and follow a heart healthy diet at the same time.
Japanese
Japanese cuisine is typically low in fat and because vegetables, seafood, tofu, rice and noodles are used. If you're trying to eat more fish, try Japanese cuisine. Be sure to order foods that are grilled, broiled, steamed or braised instead of fried to reduce the fat even further. Go easy on soy sauce as it is very high in sodium, and if you eat sushi, be careful when choosing raw fish for food safety reasons. Dessert is typically fresh fruit, which helps boost your fiber consumption.
Italian
Italian food does not have to be lasagna or pizza smothered in cheese. Instead, start with a fresh green salad with an olive-oil based dressing then enjoy minestrone soup which includes vegetables. Minimize breaded or fried foods, and avoid white or cream sauces that are higher in fat. Better choices are tomato or red clam sauces without cream or butter. Avoid antipasta plates as the cheese and cold cuts are full of saturated fat. And don't be tempted by the bread basket
Mexican
Mexican cuisine uses a lot of spices, which make low-fat meals enjoyable. Choose soft tacos instead of crisp fried tacos, and beware of the chips. Enjoy salsa with raw vegetables and choose gazpacho or black bean soup for an appetizer. Entrees that are lower in fat include chicken enchiladas, soft tacos, and fajitas. Beware that cheese enchiladas, quesadillas and queso dip are very high in fat. Order sour cream and guacamole on the side and enjoy them in moderation and ask for a light sprinkling of low-fat cheese.
Chinese
Chinese cuisine is similar to Japanese, yet there are some regional differences. Choose lightly stir-fried foods with chicken, seafood and vegetables like water chestnuts, baby corn and bamboo shoots for the most nutrition values. Many Chinese dishes feature tofu, which is a healthy form of protein. Order steamed instead of fried rice and be sure spring rolls are always steamed, not fried. Avoid batter-dipped dishes, fried egg rolls, noodles and dumplings. Chinese foods often times include soy, hoisin, oyster or black bean sauces and monosodium glutamate (MSG), which can raise the sodium content to undesirably high levels.
Middle Eastern
Wheat, grains, legumes, olives, dates, figs, lamb, rice and eggplant are popular in Middle Eastern restaurants. Foods are often marinated, then grilled or stewed. Choose combinations of vegetables and healthy grains such as tabouli, couscous, and pita bread. Other healthy foods include falafel with tzatziki, pita and hummus with a couscous salad, lentil soup, spiced lentils with chapattis and legumes, a high-fiber, low-fat source of protein.
Traveling
Meal service has been reduced on airlines. Instead of hot meals, a brown bag lunch or snack is often served. Airlines have realized that many travelers expect healthier food options and have updated their menus. Here are some tips that should help you eat healthy while traveling.

Plan ahead and ask about meal service when you schedule your flight. Major commercial airlines often offer a variety of specialty meals, including diabetic, low calorie, low cholesterol, bland, lactose-free, low-sodium, kosher, vegetarian, Hindu and Muslim. They also offer infant meals and children's options.

Bring some food and beverages in your carry-on luggage just in case the meal isn't served at the time you're hungry or if you are delayed. Bring extra beverages and foods and you'll be ready for any situation especially if traveling with children. Try some of these heart-healthy foods on your next trip:

Beverages – Pack bottled water, juice boxes and small cans of low-sodium vegetable juice. Avoid soda or sweetened beverages.

Whole grains – Dry cereals, crackers, bagels, and rice cakes are simple to pack.

Fruit and vegetables – Grapes, apple, pear or orange slices make a great snack. Bring carrot and green pepper slices, or cherry tomatoes. Pack fruit and vegetables in a cooler with a cold-pack.
Road Trips
Many Americans plan family road trips and vacations. Traveling successfully with your family requires careful planning. When packing for a trip, remember a well-stocked cooler is more economical than buying snacks at rest stops and offers you the ability to control the kinds of foods your family will eat.

To preserve produce freshness while traveling, wash fruits and vegetables, but don't peel them. Fruits like peaches, plums, and nectarines are more delicate than apples, pears, and oranges. Pack them on the top to avoid bruising. Pre-washed baby carrots, pre-cut celery, cucumber and peppers offer a nutritious crunch.

Traveling during the hot summer months requires food safety considerations. Perishable items such as yogurt or meat and salad sandwiches need to be in a cold cooler and eaten during the first day or two of travel.

Each day, fill heavy self-sealing plastic bags with ice or use freezer gel packs. Place them on top to keep foods cool for several hours. If you are spending the night in a hotel bring the cooler into your room. If your hotel has a refrigerator, place freezer packs, drinks and fruit in the refrigerator overnight so they will be cool for the next day. Replenish your ice supply if your hotel has an ice machine.

To keep the car and kids clean, avoid very sticky foods and include moist washcloths in your packing. Healthy Portable Snacks Ideas:
1.) Fresh vegetables
2.) Fresh & dried fruit
3.) Rice cakes
4.) String cheese
5.) Cans of tuna
6.) Dried cereal or graham crackers
7.) Granola or cereal grain bars
8.) Mini bagels
9.) Pretzels
Shopping
Would you believe a grocery list and a weekly structured meal plan could be helpful in losing weight? People who have definite meal plans and grocery lists keep more nutritious food in their homes. They also have more control over unnecessary snacking and perceive fewer barriers with regard to weight loss.

Structured meals and grocery lists improve regular eating habits, decrease the number of snacks eaten, and increase the number of healthy foods stored in their homes such as fruits, vegetables, low- and medium-fat meats, low-calorie frozen entrees, breads, and cereals.

The following grocery list includes many healthy foods and will make planning meals easier and help you know what foods to buy. Encourage your family to add to it during the week and remember to bring it with you when you shop.

Meats are listed for those who eat meat but this does not mean that you should eat meat. It is intended to serves as a guide to help choose healthier cuts of meat.

Fruits – Apples, Bananas, Blueberries, Cantaloupe, Grapes, Grapefruit, Honeydew Melon, Oranges, Plums, Peaches and Pears
Vegetables – Tomato, Potatoe,Zucchini, Carrots, Cauliflower, Green Beans, Lettuce, Broccoli, Onions and Mushrooms
Dairy – Fat-free yogurt, cottage cheese, sour cream, cheese, milk and egg-substitutes
Packaged Foods – Low-fat popcorn, Fat-free crackers, Baked tortilla and potato chips, Pasta, Brown rice, Fruit Juices and Diet Soda
Seafood – Fresh fish fillets, Shrimp, Lobster, Crab, Squid, Scallops, Mussels and Clams
Spreads – Canola Oil, Olive Oil, Low-fat margarine, Non-stick vegetable spray and Jelly Deli – Low-salt ham, Lean roast beef, Smoked turkey
Poultry – Chicken and turkey breast and Ground white meat turkey and chicken
Pork – Boneless lean ham, Tenderloin, Leg or Loin roastVeal – Cutlet, Shoulder roast, Loin or Sirloin
Beef – Extra lean ground beef, Top round, Sirloin and Round tip