What Is PAD
PLAQUE BUILDS UP ON THE INSIDE
Walls of the arteries that carry blood from the heart to the legs and feet
THE ARTERIES HARDEN AND NARROW
( a process called atherosclerosis) and blood flow to the legs and feet is significantly reduced
THIS MAY ALSO INVOLVE HARDENED
and narrowed arteries to the heart and brain, causing an increased risk of the heart attack or stroke.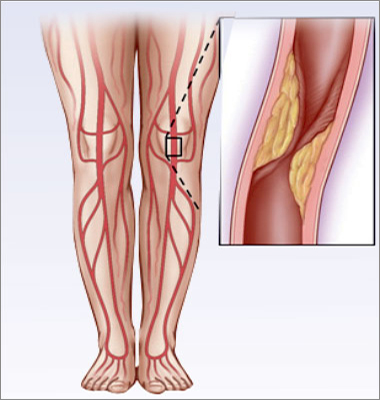 DO YOU HAVE PAD? - ARE YOU AT RISK FOR PAD?
Answers to these questions will help your physician determine the need to be screened for PAD, to better assess your vascular health.
Some risk factors that increase the chance you may develop PAD:
Are you 50 years old or older? YesNo

Do you smoke or did you smoke? YesNo
Have you been diagnosed with any of the following:
Diabetes? YesNo

Chronic kidney disease? YesNo

High blood pressure? YesNo

High cholesterol? YesNo
Symptoms that may be signs you have PAD. Do you…
Experience tiredness, heaviness, YesNo
Or cramping in the leg muscles?

Have toes or feet that look pale, YesNo
Discolored or blue?

Experience leg or foot pain that YesNo
Disturbs your sleep?

Have sores or wounds on your toes, feet, YesNo
Or legs that heal slowly or not at all?

Have a leg or foot that feels colder YesNo
Than the other?

Have thick, yellow toenails that YesNo
Aren't growing?
The more questions you answered YES, the greater your risk of PAD.
Talk to us! If you have any questions there are many things we can do together:
Call us today at: 386-456-0300 or BOOK AN APPOINTMENT
Take A Stand Against Amputation!
CATCHING PAD EARLY IS
VERY IMPORTANT!
18 MILLION AMERICANS
SUFFER FROM PAD!
PAD PATIENTS ARE MORE THAN
6 TIMES THE RISK OF DEATH FROM
CORONARY HEART DISEASE AS
THERE ARE MORE THAN
160,000 AMPUTATIONS
PERFORMED EACH YEAR!